Five ways with fabulous floral interiors
Updated: Mar 11, 2020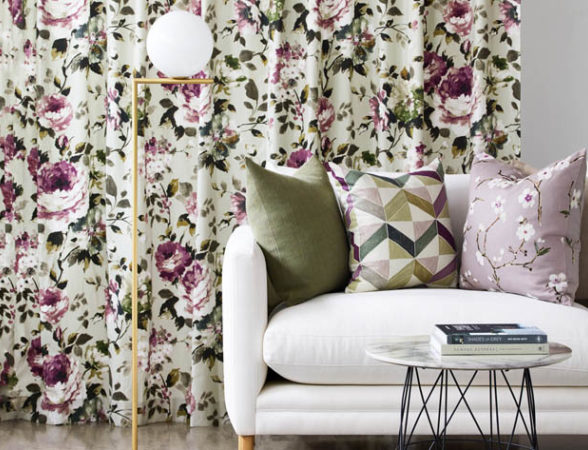 Floral wallpaper and custom-made curtain fabrics are oh-so-cool – but how do you make sure you pull off fabulous, not frumpy, when bringing the great outdoors into your home?

Knowing which floral style is right for you is the best place to start. At Colourplus our extensive range of wallpaper and curtain fabrics, and our styling expertise, mean we have everything you need to plant a floral print in your home… and watch it flourish!
Here are our tips for getting five floral looks right.
1. Oversized blooms
Big, beautiful oversized florals can command attention and give your room an opulent feel. Getting it right takes restraint. Less is definitely more. An oversized flower print bedroom wallpaper on a single wall will make a statement (placing it behind the bed can work a treat). However, using the same print on all four walls of a large living-dining room will make your eyes hurt. Thinking of using floor length curtains with big, bold flowers set against a crisp white or subtly coloured wall? Now that's fabulous!
Get the look 
Opulent oversized floral wallpapers with a real life effect: Komar Photomurals.  Komar Photomural Vol  15. 4-876 pictured.
Abstract florals with a distinctive style that is fun and urban: Warwick Euphoria, pictured colourway, Lagoon.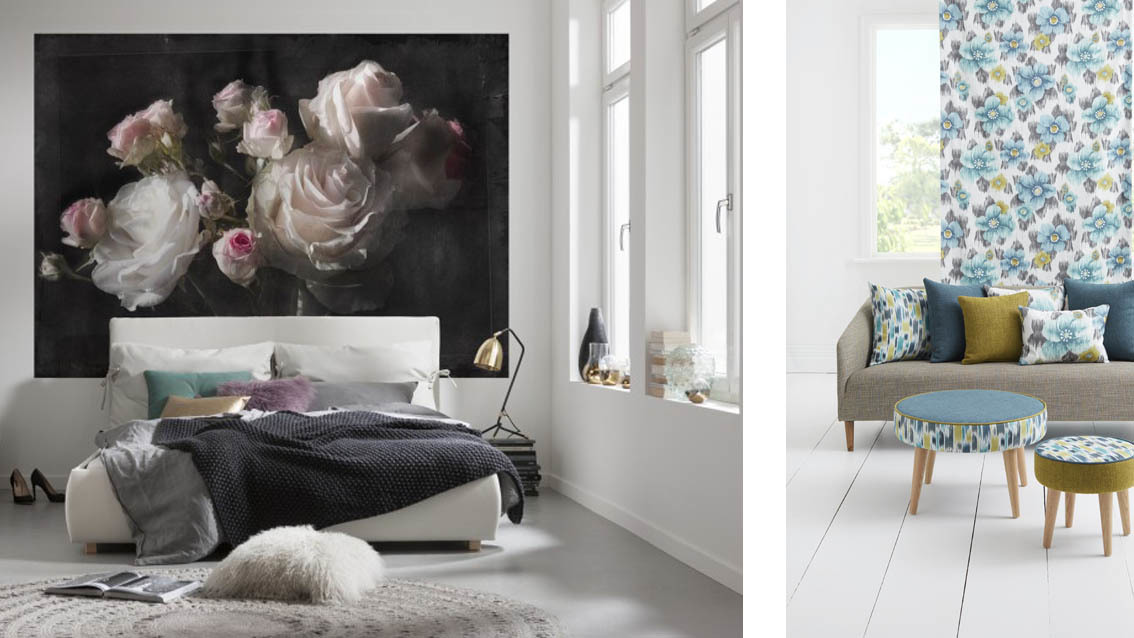 For quirky yesteryear floral charm, pretty maximalism (never chaos) is the aim. Here's where you can mix and match florals… but be careful! Sometimes, two different prints, no matter how much you love them, simply don't work together. When it comes to furnishings, have fun but let the colours and shades of the flowers on your walls or curtains do the talking. Reference colours from the fabric or wallpaper in a cushion or light fitting – but consider every item in your room. Is the fabric on your mid-century modern chair too much against the wallpaper? Do your pictures work in the space? Curate your furnishings carefully, don't just collect them.
Get the look
Curtain fabric with yesteryear charm : James Dunlop Orchard, pictured colourway, Mustard.
3. Lush botanicals
Take a walk on the wild side! Wallpapers and fabrics with verdant jungle plants and tropical flowers create a fun atmosphere. These prints make great accents. Use them in smaller spaces: bedrooms, bathrooms and studies. Hanging lush botanic custom-made curtains? Take inspiration from the colour scheme and choose a complementary colour for your wall paint.  
Get the look
Wallpaper with a tropical touch: Vivid, pictured pattern 384504
Fabric on the wild side: James Dunlop Aruba, pictured colourway, Jungle.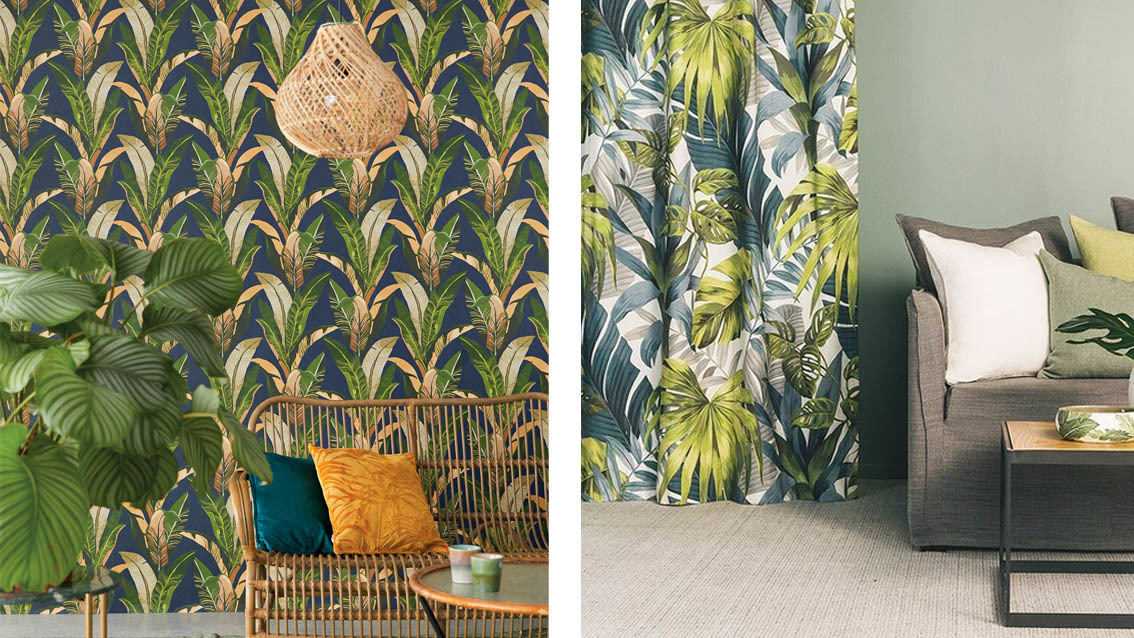 4. English country classics

These fresh, clean florals are timeless, pretty and elegant and pair perfectly with crisp white and neutral colours. White wall paint and wooden floors and furniture give curtains with these prints the limelight and show them to best effect. If you're longing to add detail, look to your furnishings. A subtle, textured armchair fabric can add depth without stealing the show. If you're using an English country classic wallpaper, a gauzy sheer curtain could heighten your room's timeless charm. Living florals – pot plants or a vase of flowers – can also add to the simple beauty of this look.
Get the look
Fresh pretty curtain fabric: James Dunlop Bloomfield, pictured at top of page and Secret Garden by Pegasus, pictured below.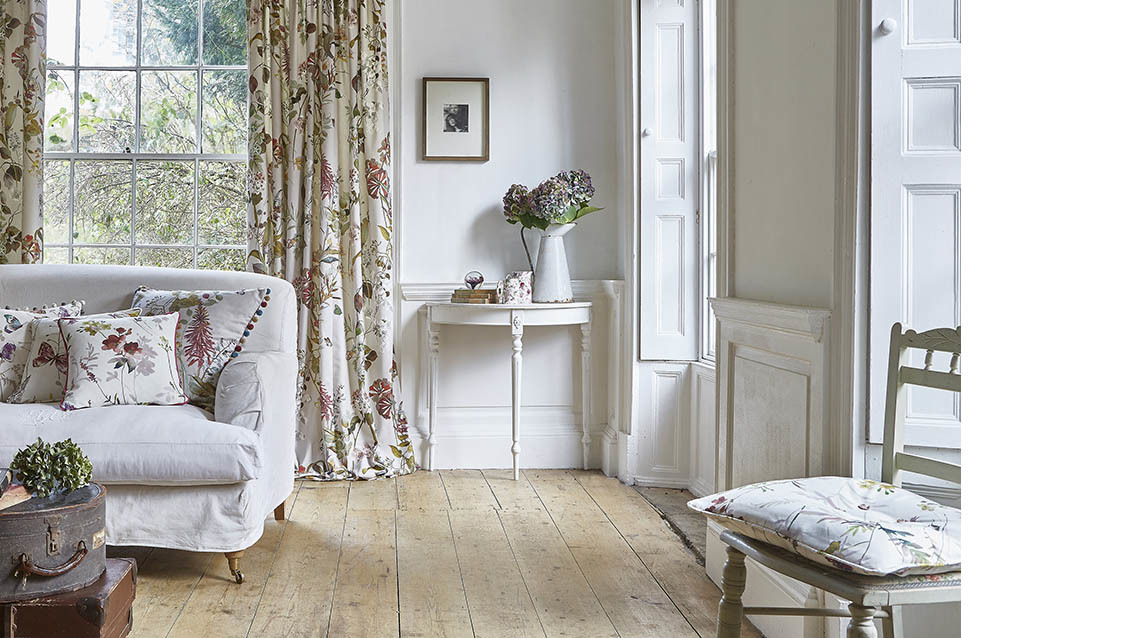 5. Florals with a modern twist
Love flowers but want a more modern, clean-line look with less detail? There are lots of modern wallpaper and fabric options that allow you to incorporate florals into your interior in more subtle ways. Graphic line prints, fabrics with textured flowers in jacquard shadow and geometric representations of flowers are all great options. To create the perfect look, choose one modern twist floral and pair with clean lined modern furniture, artworks and light fittings.
Get the look: 
Modern twist floral wallpapers:  Bloom 
For expert in-person style advice on using florals (and more), pop into your local Colourplus.
Find My Store