3 reasons wallpaper is perfect for children's bedrooms
Updated: Aug 28, 2020
Whether you are decorating a nursery for a much-anticipated new arrival, upgrading a kid's room, or styling a haven for a tween or teen, wallpaper is perfect for creating an inviting bedroom.
Here are three reasons wallpaper is ideal for decorating children's bedrooms, and three wallpaper ranges that are perfect for the job.   
Choose your impact
Easy to update
Simple installation
1. Choose your impact
Whether you are going for a subtle style, with pastels, stripes and simple designs, or want to make a bold impact with bright colours or busy patterns, wallpaper really does have your walls covered.
Feature walls come into their own in children's rooms, giving you the option to mix and match patterns with simple styles. In shared bedrooms, feature walls give children the opportunity to express their personality, with the look easily tied together with neutral patterns and colours.
The Jack N Rose collection, available at Colourplus, is perfect for finding both fun patterned wallpapers and simple complementary styles.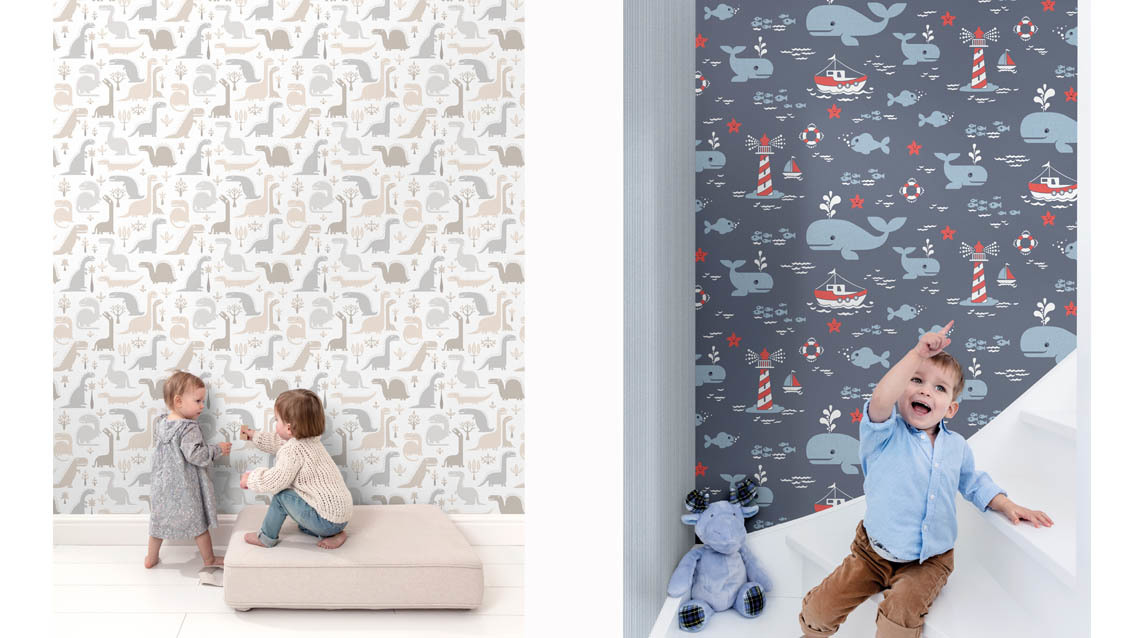 Pictured: Jack N Rose 2 pattern no. 11_10_11_9 & 113207
2. Easy to update

Modern wallpapers are simple to remove and reapply. This means as your child grows, and their tastes change, it is easy to update the look of their bedroom. If you have incorporated feature walls, you may only have to change one wall, which makes wallpaper a cost-effective way to keep children's bedrooms up to date.
The Kids range at Colourplus has something for every age group, from cute elephants to construction vehicles, simple sophisticated bird patterns and street style graffiti.
Pictured: Kids Focus Collection pattern no. 219308 & 292404
3. Simple installation

While not quite so simple that a child could do it, modern wallpapers are very easy to apply. This means it is a hands-on task that older children can get involved in. It also means it is a job that you can get done over the weekend.
The new Individual collection is stunning, and includes an eclectic mix of licensed products from Disney and Marvel, innovative Glow in the Dark wallpaper, and an edited trend section. So whether your child wants to share their bedroom with Woody and Buzz Lightyear, the Avengers or glow in the dark unicorns, there is something is this collection to delight.
Pictured: Individual pattern no. 102435 & 106604

If you want to know more about using wallpaper in your home, check out our FAQs, this article on how to decorate with wallpaper, or come and see our experts instore. 

Find My Store