Where to start your interior design DIY
Updated: Apr 01, 2022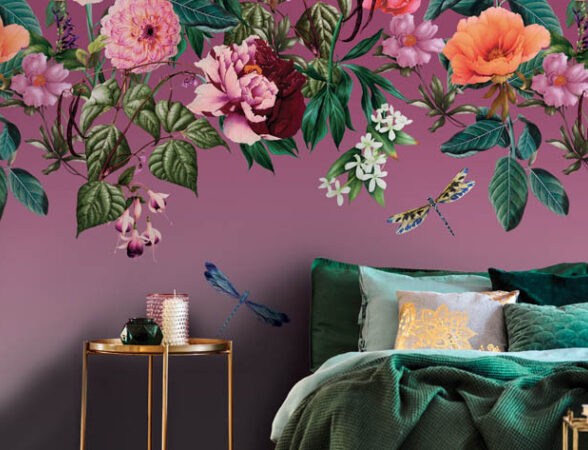 If you have decided to DIY your interior design, it can be overwhelming knowing where to start. Your home is your haven and should be a reflection of you, your tastes and your style. Understanding some basics can give you a good starting point, and help you understand why some spaces just feel right. 

Colours - go from complex to simple
When you are choosing colours, it is much easier to start with complex patterns or unusual colours first. If you have a feature item you are using as a focal point or basis of a colour scheme, such as a rug, art piece or patterned wallpaper, that is where you should start. It is easier to match the curtains to the rug, match the cushions to the curtains, and match the paint to everything else than vice versa. 
"The Pandora Sapphire fabric, from James Dunlop, creates a dramatic statement in this room. With cushions in three different colours, drawn from the drapes, and a wall using the same base colour highlights the patterning of the curtains."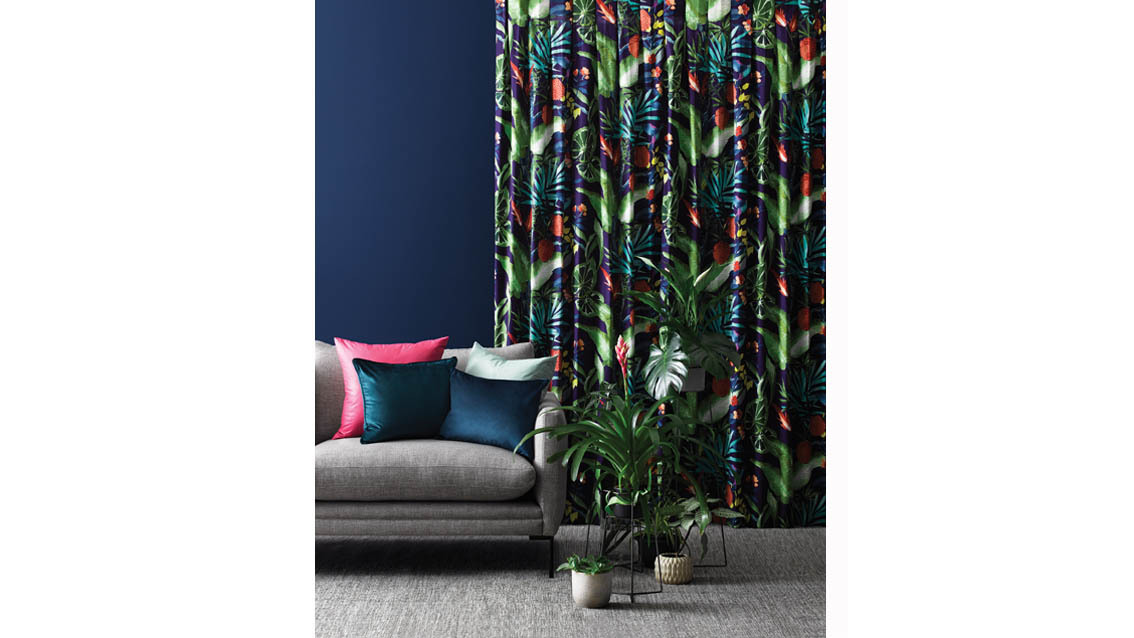 Image Reference: Pandora, Sapphire by James Dunlop
Understanding the way colour impacts the feel of the room is important too. This goes beyond 'blue is calming' and 'orange is energising'. The right colour or tone can help visually raise or lower your ceiling, compensate for a lack of natural light, make a large space cosier and a small space feel bigger.
Choose a focus, or one will be chosen for you
When we enter a room our eyes are drawn to something as the focal point of that space - either by virtue of placement, colour or pattern. The best designs do this on purpose, instead of allowing it to happen by accident. 
There may be a natural focal point in a room, such as a fireplace or large windows, which you choose to amplify with furniture placement. Or you may wish to create one. Thinking about the function of the room can help - is this a place where people gather to eat? Perhaps the focus becomes a beautiful dining table with ornaments or a vase of flowers. Is it a room to retreat to? You may choose an inviting chair under an interesting lamp, next to a window or bookshelf. Creating a feature wall with art, patterned wallpaper or a mural is an easy way to create a focal point.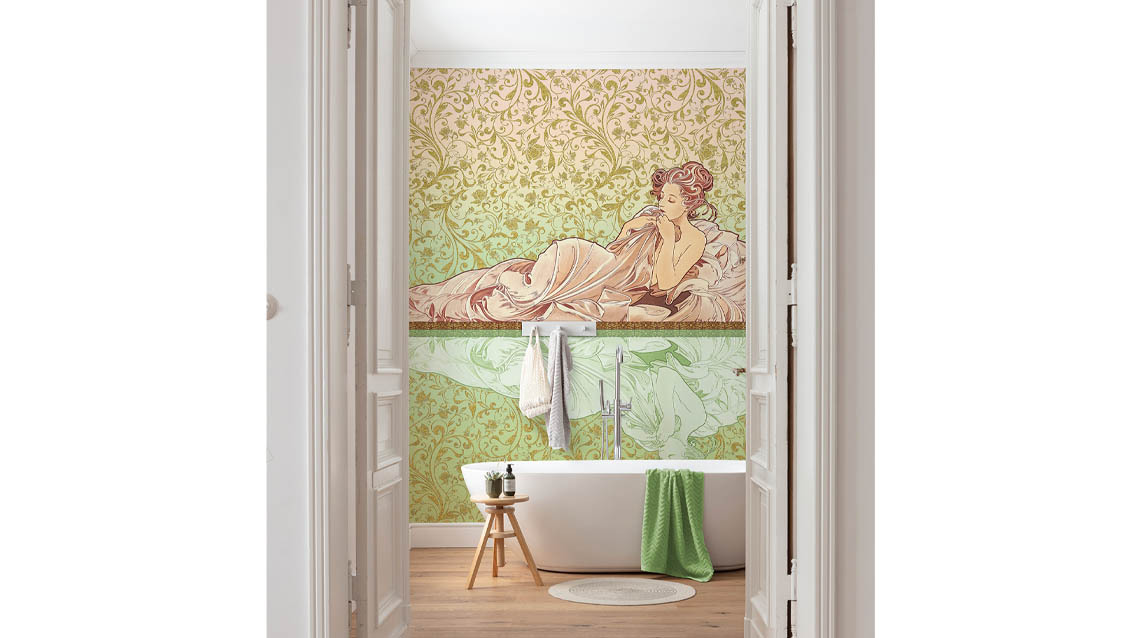 Image Reference: Komar Heritage pattern HX4-035
This dramatic art deco wallpaper mural from the Komar Heritage collection instantly captures the eye, making the focal point in this bathroom the mural, instead of the bath. 
Form vs function
There is no point in following a trend if it doesn't suit your lifestyle. As an example, think of the differences between minimalism versus maximalism in layout and furniture choices. If your mind needs a clean slate to work at its best, or you despise clutter, you may want to look into minimalist style tricks and furniture that keep the debris of life hidden well away. 
Image Reference: Utopia 99340
However, if you are a collector who enjoys seeing your beautiful or nostalgic possessions every day, or having everything out of sight also means out of mind, and you forget them altogether, you are better off designing around this. This could be shelves for displaying photos, books, plants or ornaments, or sideboards with baskets or crates to keep things contained but accessible. 
Choosing a theme or style
You don't have to choose a theme for your interior design, and if you have an eclectic taste that is to be celebrated. However, if you are drawn to a particular style, such as Scandinavian, industrial, mid-century modern or shabby chic, it can be easier to find complementary pieces and products to tie your look together.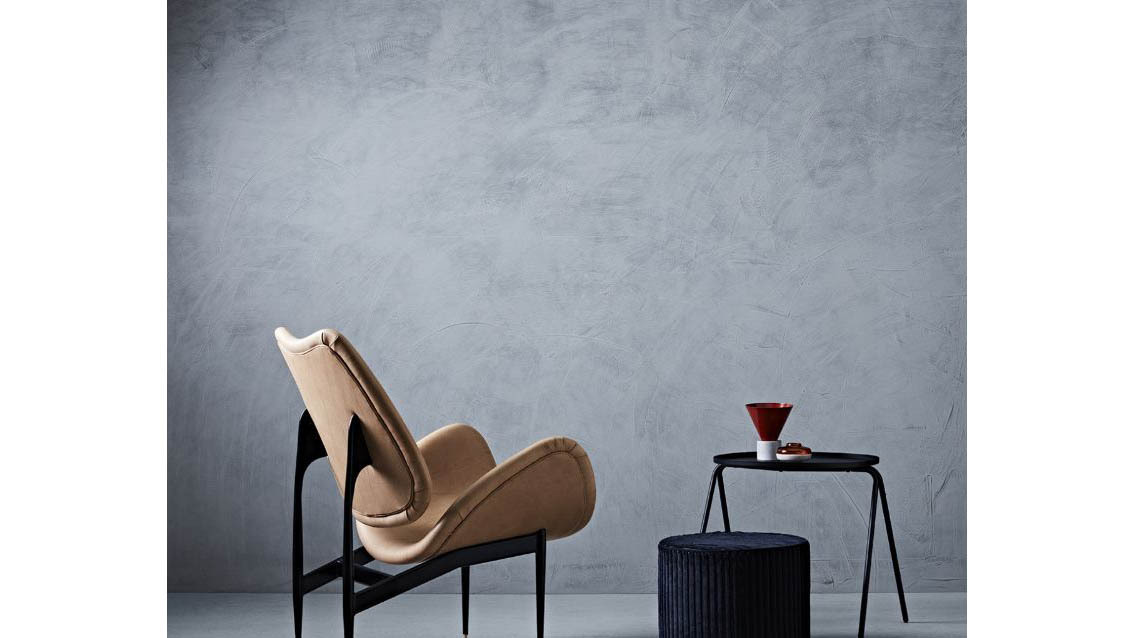 Pictured above, Dulux Design Concrete Effect introduces texture to a space and adds an industrial vibe.

Bring your designs to life with Colourplus Our experienced Colourplus consultants are ready to help either online or locally at your store. You can book a virtual consultation or come in to discuss your ideas and the best products to bring them to life. Whether you need technical advice, colour suggestions or product guidance, we are on your team. 
Find My Store