Sun-smart style: 3 custom blinds to cool your home and protect your furniture
Updated: Nov 17, 2022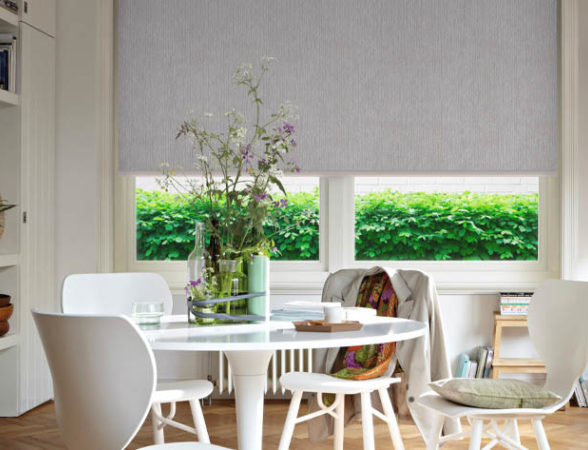 Sun, sun, sun, here we come! A sun-drenched home seems like the perfect prescription for summer living: bright light, warmth. But in the height of a New Zealand summer, a sunny room can be stifling, the light glaring and the harsh rays can leach vibrancy from your furnishings.
You're great at making sure your skin is protected, so why not your home? At Colourplus our Luxaflex® Roller Blinds, Duette® Shades and Woodmates® Venetians are great options to solve summer's big problem. These clever custom blinds can all be used to filter light and protect an interior while still enjoying the view and summer sun. Better yet, they are all available with automated options. But which is right for you? As with any interior choice, your personal style and living configuration will play an important role.
1). The sleek and simple option: Roller Blinds
If you're looking to add sun protection that works with your home's existing style, Roller Blinds could be the perfect option. Hidden when they're up and discreet when they're down, Roller Blinds are the simple, stylish option that will let your existing décor speak for itself. Your paintings will still pop, that signature pendant will still be the talking point of the room.
These custom-made blinds deliver options. They come in an extensive range of fabrics, with plentiful neutral options, textured looks and subtle patterns.
Use a sunscreen fabric to protect delicate furnishings (and people) against damage from harmful UV rays. Light filtration fabrics shade and protect while maximising natural light. Blockouts allow you to create darkness. Roller Blinds really can be whatever you want them to be.
Unified, seamless style
Use Roller Blinds to create a seamless effect across multiple rooms. Luxaflex® fabrics allow you to provide individualised Roller Blind treatments in different spaces, while retaining a unified look.
For example, use the classic texture of Kenross in a light filtration fabric to maximise sun-protection and retain the outlook in a sunny living area. Then, use matching blockout Kenross for a bedroom requiring total darkness.
Headbox and fascia systems – now you see them, now you don't!
Roller Blinds can be tucked away from view when they're not in use, in a headbox or fascia system. These come in sleek, neutral shades, including anodised silver, or they can be powder coated in white, black or magnolia.
Can't sleep without total darkness in the bedroom? Good news: the headbox system can be installed with side channels to ensure all light is also blocked from the sides of your window.
Twin bracket: the best of both worlds
Blockout or Light Filtering? Can't decide? Go for a twin bracket.  This gives you the best of both. In a space like a bedroom, use your Light Filtering Roller Blind during the day and the Blockout blind at night. Or if you like to wake up to the morning sun, go for an automated option and programme your custom blind like an alarm. Have the Blockout roll away at a particular time, leaving the light filtration fabric to do its job (more on automation later).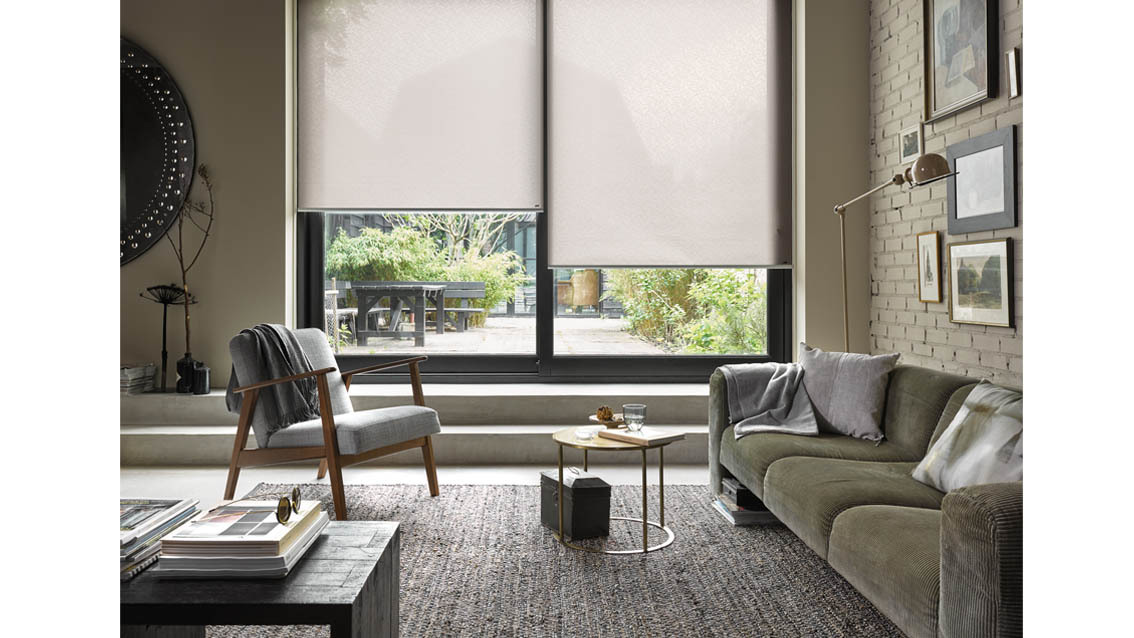 2). Classic and hard-wearing: Woodmates® Venetians
Looking for hard-wearing sun protection with a classic, elegant edge? Luxaflex® Woodmates® have all the warm, natural beauty of a traditional wooden Venetian blind. But while they look just like wood, they don't require the same care. They're also more cost-effective than a traditional Venetian.
Stellar summer performance
Woodmates® are made from polyresin, a material that stands up to the test of a Kiwi summer much better than wood because it's resistant to heat, moisture and UV.
Colour and slat options
Woodmates® offer a great range of colours and two different slat widths. Bring them into the warm wooden palette of your interior by matching them to an existing wood. Or for a clean, minimalist look go white.
When they're not in use
Woodmates® have a discreet, matching 90mm valance at the top of the blind. This hides light gaps and mechanisms. The bottom rail is also shaped to provide optimum closure – and optimum sun protection! And the answer to the question on your lips is yes! They can be automated – making this oh-so-durable window treatment convenient and safe to use in a child's room.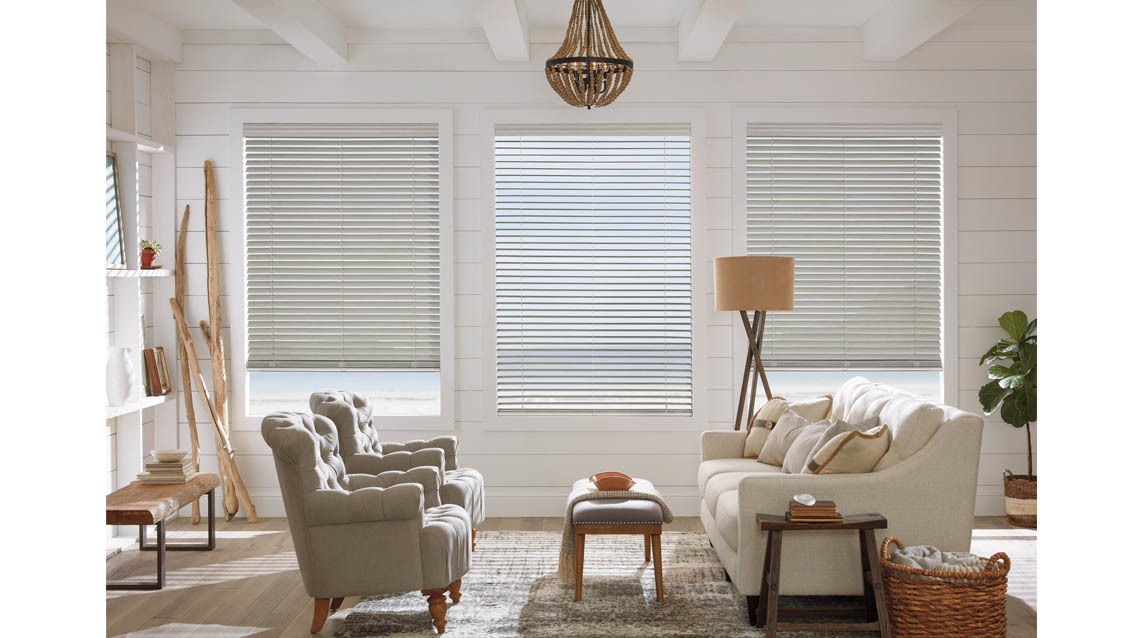 3. Smart features and pure sophistication: Duette® Shades
Striking to look at, Luxaflex® Duette Shades are a premier honeycomb or cellular shade.  They're made of layers of pleated, reinforced fabric, joined to form hexagon-shaped rows of trapped air. This means they are super-insulating – often called the next best thing to double-glazing.
While retaining heat might sound like just the thing you're trying to avoid in summer, the clever design of Duette® Shades means they also keep your home cool when the weather is hot.
Fabric-cadabra!
Duette® Shades are available in an extensive range of fabrics. Everything from raw silks to muted tones and glamorous shimmers – in dozens of colours. There are two pleat depths to choose from and you can also select Sheer, Translucent or Blockout fabrics. Putting light control and sun protection firmly in your hands!   
In a room with multiple light control requirements, go for the Day-Night option. This allows you to combine two shades on one Headrail. Pair a Blockout with a Sheer in a bedroom or a Sheer and a Translucent in a living area.
Top-down/bottom-up – maximise privacy and natural light
In a room where privacy and natural light are both concerns Duette® shades can be installed to leave the top part of a window uncovered, allowing the light in, whilst shading the lower part of the window for privacy and protection. 
Skylights and unusual windows
You've sorted sun-protection for your windows but what about that Skylight in the ceiling? Duettes are a great option for shading unusually shaped windows. They can be fitted to bay windows, semi-circular windows and yes, even skylights.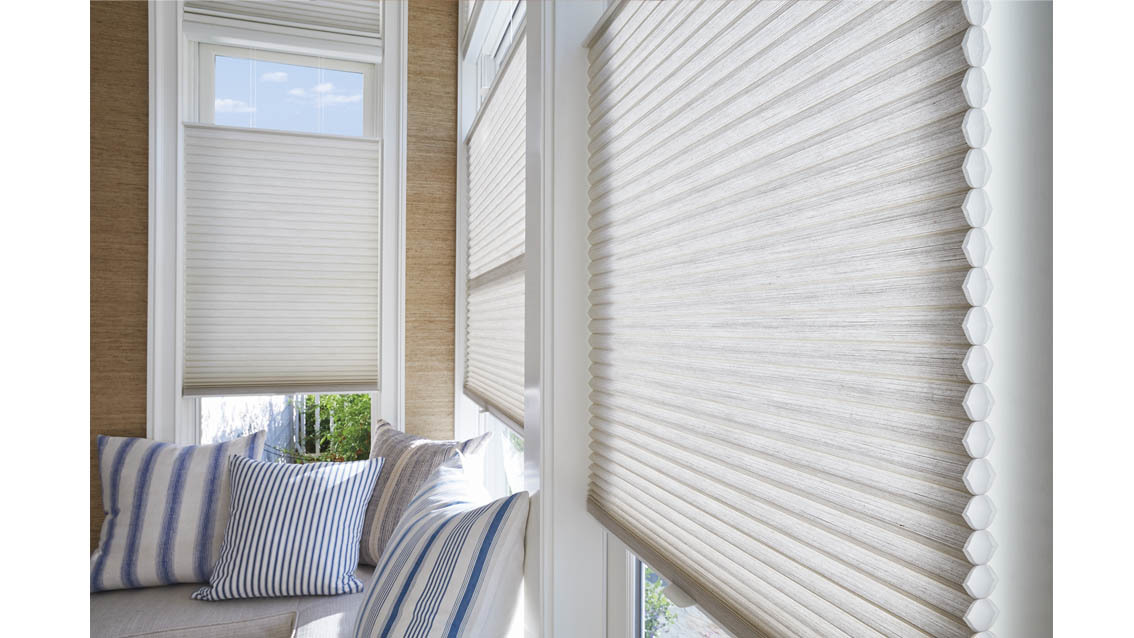 Automation: sun protection's future!
Imagine being able to adjust your new, stylish custom blinds at the click of a button, or knowing that when you get home in the evening, they'll be arranged so that you can look out into the garden over dinner, without squinting or donning oversized sunglasses. Imagine your blinds drawing themselves back at precisely 7.00 a.m. – allowing you to wake with the natural light.
You don't have to imagine. Luxaflex® Roller Blinds, Woodmates® and Duette® Shades can each be installed with automated operation. Use a remote or your mobile device to programme and operate your blinds. This summer you could be away at the beach and still be in control of your home's sun protection!
To find out more about sun protection for your home, or to book a free measure and quote, pop into your nearest Colourplus store. Our consultants can help you choose the best blinds for your needs and personal style.

Find My Store