Choosing the right fabric for your curtains
Updated: Nov 29, 2022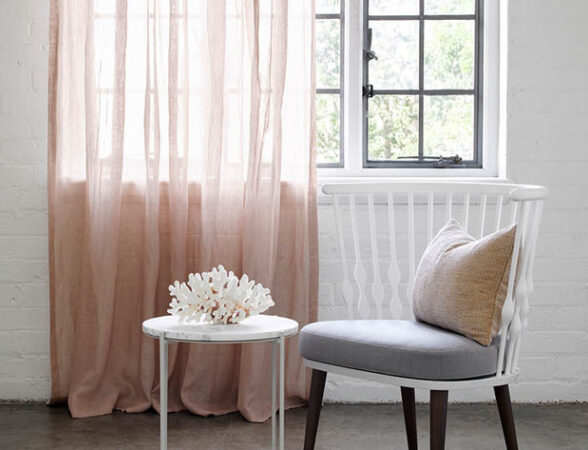 Practical and stylish, new drapes can elevate the style of a room while providing privacy, keeping the sun out or warmth in. They also come with a world of choices to make, from style to pattern to fabric. 

Different fabrics have different functions, which impact how curtains hang and drape and how durable and easy they are to clean. Understanding each helps narrow down the choices and ensures you get the look you are trying to achieve.
Curtain fabrics can be broadly divided into two categories depending on their use - sheer and opaque. Sheer curtains are those you can see through, opaque curtains are those you cannot. 
Best fabric for sheer curtains
Sheer curtains add style, provide some privacy and reduce glare while allowing natural light to filter through. Sheers have moved on from granny's net curtains and with the extensive range available from our suppliers you can easily find a style to suit your interior scheme, be that striking, romantic, subtle or classic. 
Polyester & Acrylic: Most sheer curtains are made of polyester which is easy to clean and cost effective. The range of patterns available and the ease of maintenance make this a very popular choice. 
Cotton, Linen, Muslin & Voile: Elegant and classic, cotton, muslin, voile or linen sheer curtains move elegantly and offer a breezy, casual look. Laconia Air from the James Dunlop Luxury Linens collection is a good example, showing the effortless elegance that can be achieved with the subtle fluid movement of the drape.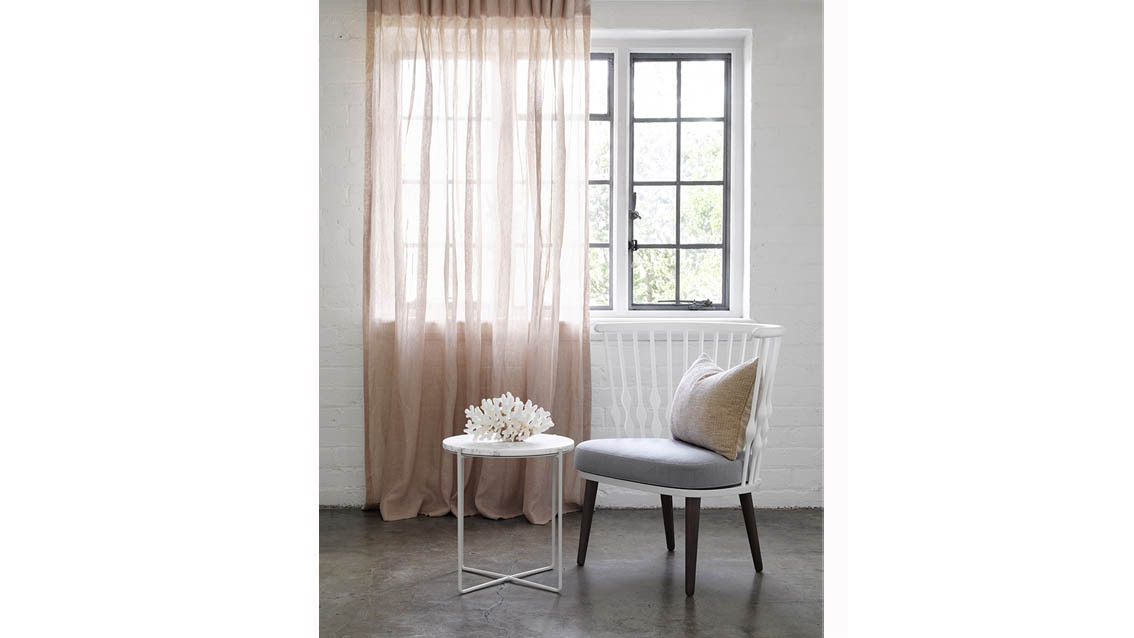 Image features Laconia Air, James Dunlop
Muslin is a light, gauzy cotton and voile is an open-weave, sheer fabric. Voile is usually made from cotton but can be blended with linen, it has a high thread count which makes it soft to the touch and gives it a sheen that mimics silk. 
Polycotton & Blends: Sometimes the best way to get the functionality of synthetic fibres with the aesthetic of natural fibres is by using blends. Polycotton is a highly durable blend of cotton and polyester fibres, often more affordable than 100% cotton. 
Other blends are used to create a certain look, such as Viewpoint - a beautiful sheer curtain with lineal watercolour, in a 90% polyester and 10% linen blend. 
Image features Viewpoint, James Dunlop

Best fabric for opaque curtains

Opaque curtains are used throughout the home, but the fabric you choose will be dictated by the look you are trying to achieve and the level of maintenance you feel comfortable with. 
Damask, Brocade, & Jacquard: These have a pattern woven into silk, wool, linen, cotton, or synthetic fabric and because the patterns are woven in, they are reversible. Damask curtains such as Tyrell are ideal if you are wanting to create a classy, traditional look in your home. 
Velvet: If you are seeking drama and luxury, you may want to consider velvet. From the lush, patterned offerings in the Botanist Collection by Warwick, to the plush, touchable single colours of Lafayette, finding an option to suit your style is easy. The heavy hanging look of the fabric is visually appealing and being naturally thick they block a lot of light.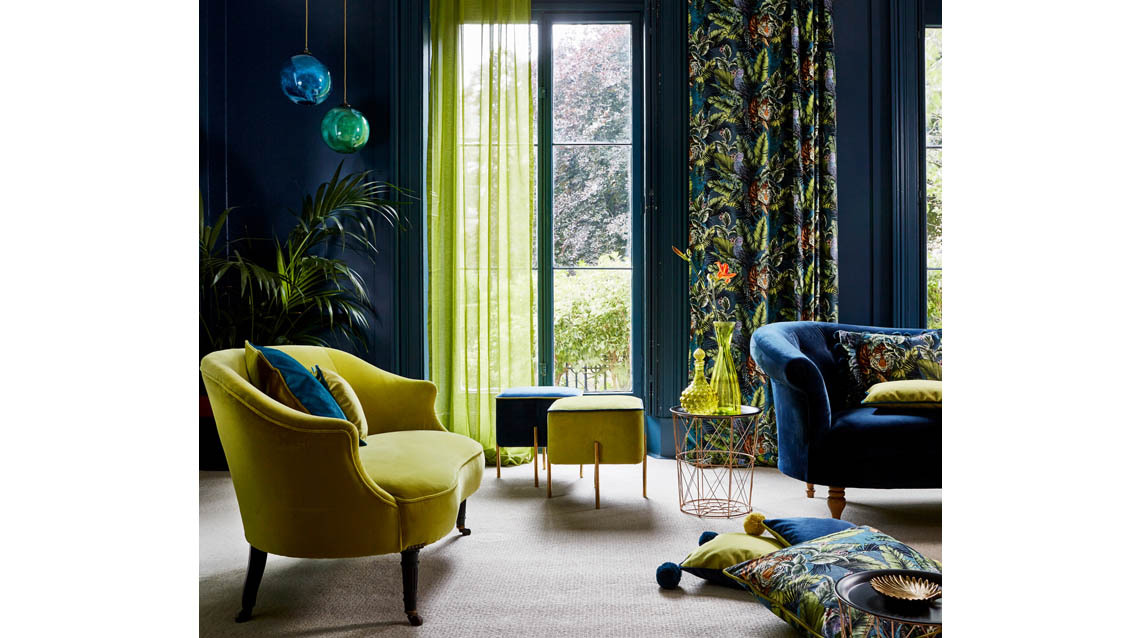 Image features The Botanist collection, Warwick

Cotton & Cotton Blends: A popular choice for curtains, cotton is versatile and allows producers to create a range of styles and patterns for every taste. From the classic Scandinvaian aetshetic of Copenhagen to the bright and fun botanicals of Tonga, they are easy to wash and can be lined to improve the thermal or black out properties.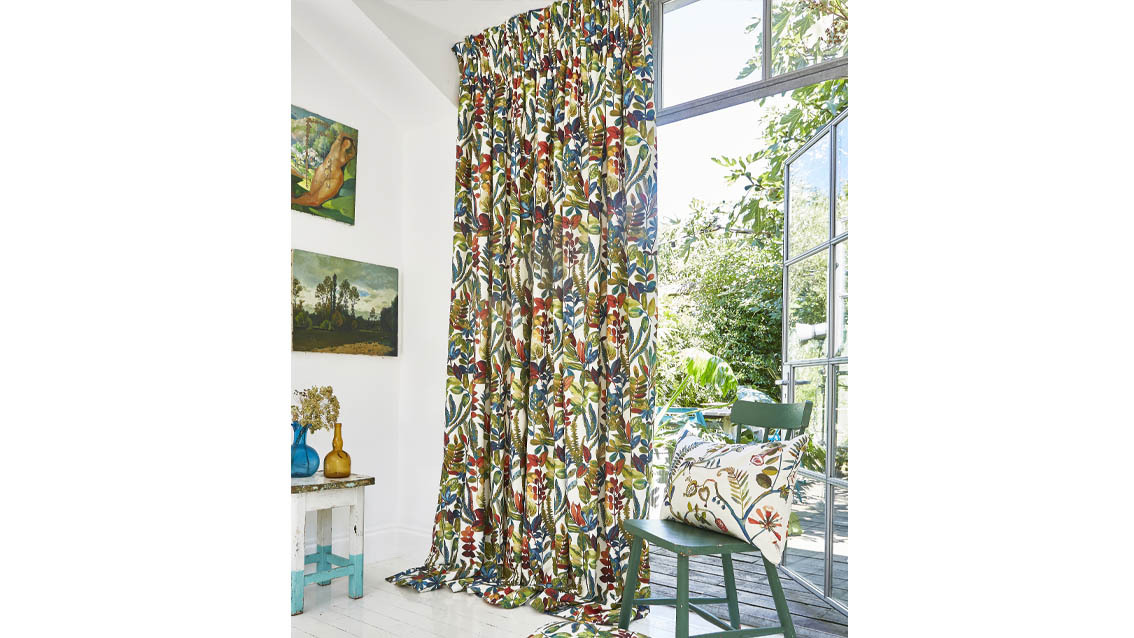 Image features Tonga, Warwick

Linen: Linen evokes casual sophistication. From the warm neutral tones of Icon Everyday's 100% linen Suffolk, to the pleasing colours and classic patterns of Malmsbury, featuring a blend of 55% linen and 45% rayon, linen drapes are an easy way to introduce traditional style to your home. 

Polyester: Polyester is the chameleon of fabrics, as it can be manufactured to mimic the feel and appearance of other materials, while being lightweight yet strong, affordable, colourfast, and resistant to wrinkling or stretching. So if the look of linen appeals, but not the cost or care, you could try Chic by Nettex. If silk suits your aesthetic, try Silk Road by James Dunlop, which emulates the appearance of dupion silk, is available in an extensive palette and combines practicality and beauty. 
Thermal & Blackout Curtains
Curtains are an important tool in regulating the light and temperature in your home by keeping the warmth in or the sun out. Thermal curtains have a one pass coated backing and keep some sun out, whereas blackout curtains have a three pass coated backing, making it even harder for light to filter through. 
If you have chosen sheer curtains but want to add some thermal, privacy or blackout properties to your window dressing, Moroso by Charles Parsons is a three pass coated coloured lining, perfect on a double track behind sheer curtains. For a classic style curtain with thermal or light blocking qualities, Tasman by James Dunlop offers 14 colours from cyprus to denim to graphite, with three finishing options - uncoated, one pass coated or three pass blackout. 
If you have chosen a curtain fabric without thermal or blackout coating options you can add an attachable thermal lining.
With an extensive range of fabrics from New Zealand's leading fabric suppliers, and a free measure and quote service, at Colourplus we've got curtains for your style and the knowledge to help you choose. 
Find My Store