Looking for curtain inspiration? 6 ideas for a signature look
Updated: Jun 15, 2018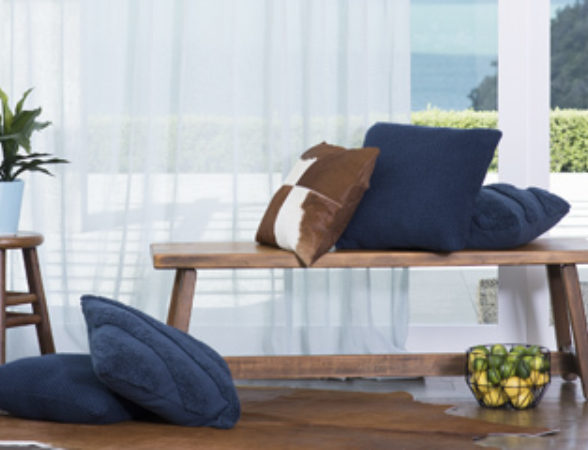 When it comes to decorating, window treatments are one of the best ways to style a room. Whether you're going for an elegant aesthetic or want a more edgy space, the perfect custom curtains or blinds will pull your wall colour, floor coverings and joinery together to create a seamless look.

No matter if it's your first time having window treatments custom-made or you're an old hand, the process of picking the perfect pair of curtains can feel a little daunting. After all, you're likely to be looking at the end result for years to come!
To help you get started, we've put together 6 ideas for creating custom curtains that are a little bit special.
Play with texture
Perhaps your room features a patterned rug or a character sofa – if you already have a statement piece in the space, you probably shouldn't opt for a bold curtain fabric. But that doesn't mean your drapes have to be 'plain Jane'!
Interesting textures are a fantastic way to add depth and character to your home. Sheer curtains are a very graceful option that are absolutely in fashion right now. If you'd like more weight to your fabric, a tone-on-tone print will deliver a beautiful textured look.

Pictured: Mia - in Vapour, Pumice & Slate colourways
Stick to the classics
As the newly minted Duchess of Sussex proved with her divine Givenchy wedding dress, a simple and elegant look can be stunning.
When it comes to timeless custom curtains, you can't go past the look of linen. Simple but sophisticated, linen look curtains are also available in a wide variety of shades, making them easy to match with the rest of your décor.
The bonus of choosing a more classic and understated style of curtain is that they're less likely to date as interior design trends change.
Take a walk on the wild side
So you don't do boring? Flaunt your sense of style with a daring drape pattern that'll turn heads and inspire envy when it hits your Instagram feed.
Stripes and geometric prints are still going strong. You could also opt for a bold flocked design that will evoke a sense of grandeur in your room.
This type of curtain fabric works particularly well in a space where the rest of the décor is simple and understated. Think white washed floors, Scandinavian furniture and some lush textiles for rugs and cushions.
Don't be afraid of a darker hue
Traditionally, most people opt for mid-tones when it comes to choosing custom-made drapes. Choosing a darker tone can be a great way to make a feature window stand out (for example if your home has stained glass), or to frame a gorgeous view.
If you're going dark with your drapes, ensure that you choose a quality fabric which won't fade in the sunlight. And, unless you're after an Adams Family aesthetic, you'll also need to ensure that the rest of your furnishings aren't too dark.
Pictured: Aurora Lagoon (first two images), Aurora Currant

Pick a pleat that pops
Think a pencil pleat is your only option? Think again.
From clean, modern inverted pleats, to sophisticate French pleats, there are plenty of options to choose from. When selecting a pleat, it pays to think about your overall interior design, and also to consider how much light you're happy to let in at the top of the curtain rail.
Would a blind look better?
If you're decorating a smaller space, or one in a high traffic area, roman blinds can be a much more practical option. They still allow you to express your sense of style using beautiful curtain fabric, and can be lined with a thermal block-out fabric, but can also be tucked up out of the way quickly and easily.
Bonus tip – invest in quality hardware!
Beautiful custom curtains deserve a beautiful rail and quality hooks, just as divine blinds deserve a high quality chain system. If you want to achieve a high quality look, don't skimp on the extras!
It's also important to remember that if you're going to invest in custom made curtains, it pays to have them made by a professional who will ensure that each drape is beautifully sewn and measured for a perfect fit.
Feeling inspired? Colourplus has just launched its brand new range of curtain fabrics, Soul Collection. Available at all Colourplus stores, this special collection of high quality fabrics includes sheers, linens, block-outs and more in a wide range of colours and prints.
The best thing about the Soul Collection? You can have custom curtains made and delivered in just 15 working days*!
See the full range of Soul Collection fabrics here or call into your nearest Colourplus store for one-on-one advice and inspiration.
*Installation time additional
Find My Store