Illuminating and Ultimate Grey – Pantone's 2021 Colours of the Year
Updated: Jan 28, 2021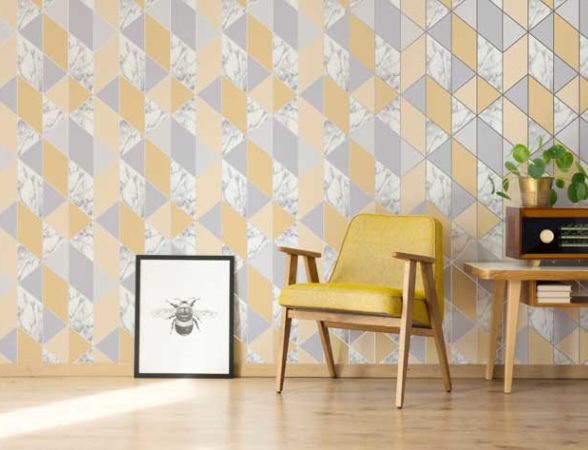 Pantone has chosen two independent shades for the 2021 Colour of the Year - Ultimate Grey, to signify strength and fortitude, and Illuminating, a bright and cheery yellow to evoke hope and positivity.
These are easy tones to introduce into your home, providing an ideal opportunity to update your wallpaper or curtains. We've highlighted six collections which embrace the many shades of yellow and grey to get you started.
Wallpaper
Scandinavian Style
This simple yet sophisticated collection from Aspiring Walls captures the simple shapes, clean lines and practicality Scandinavian style is known for. The collection includes both grey and yellow based wallpapers as well as some combining the two.
Pictured: Scandinavian Style 32456-2
Fresca
From little birds with patches of grey against a bright and cheery yellow background, to stylised waves of yellow over grey, and geometric combinations of yellow, grey and marble, the Fresca Collection from Graham & Brown brings these colours to life in stunning ways. These patterned wallpapers are perfect for a feature wall, and the plain wallpapers in the range can be used to complement them.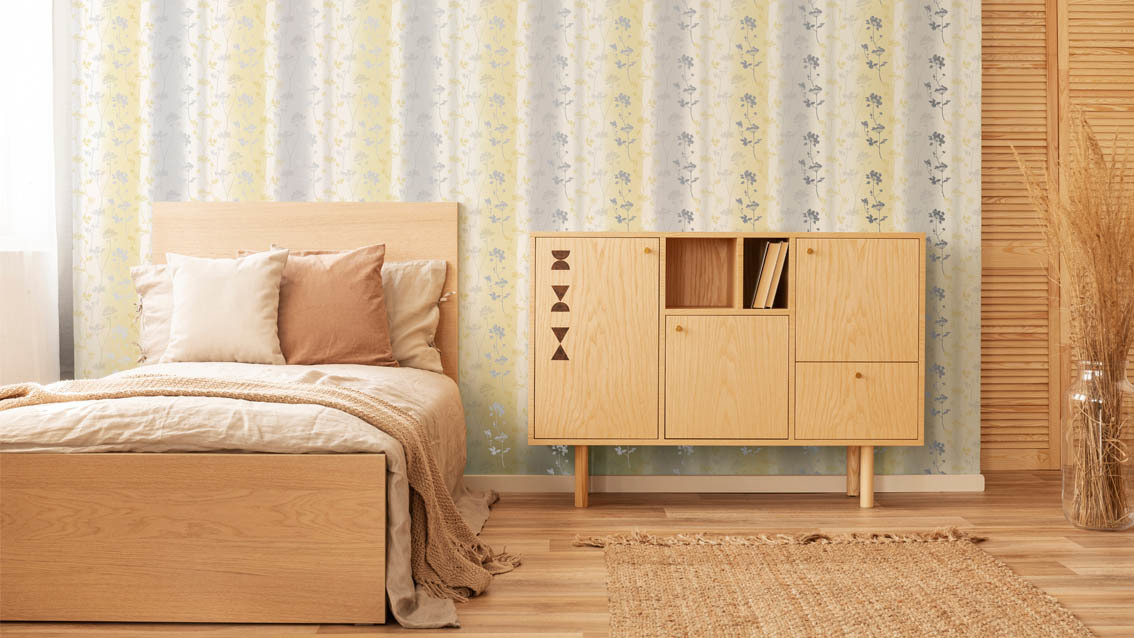 Pictured: Fresca, 106409

For children's rooms
Creating an on-trend colour scheme for children's bedrooms is easy. The Individual Collection from Graham & Brown has a large range of fun patterned wallpapers in grey, from stars to cityscapes, to bricks and spots and stripes, which create the perfect background for pops of yellow in artworks, soft toys or furnishings. The collection even includes a patterned paper featuring grey animals on safari against a yellow background!
Pictured: Individual, 107691
Curtains
Cotswolds
The 100% cotton Cotswolds Collection reinterprets the rolling hills and grassland scenery of this English region into a range of contemporary prints with a fresh spring and warm autumn colour palette. It provides a range of options combining yellow and grey, including the floral motif of the Charlbury pattern in Fennel and Saffron and the stylised leaves of Leafield in Duckegg, Fennel and Saffron. For curtains in grey or yellow, the collection presents Charlbury in Pebble, Combe in Fennel, Linen or Slate and Honeybourne in Fennel, Pebble or Saffron.
Pictured: James Dunlop,  Charlbury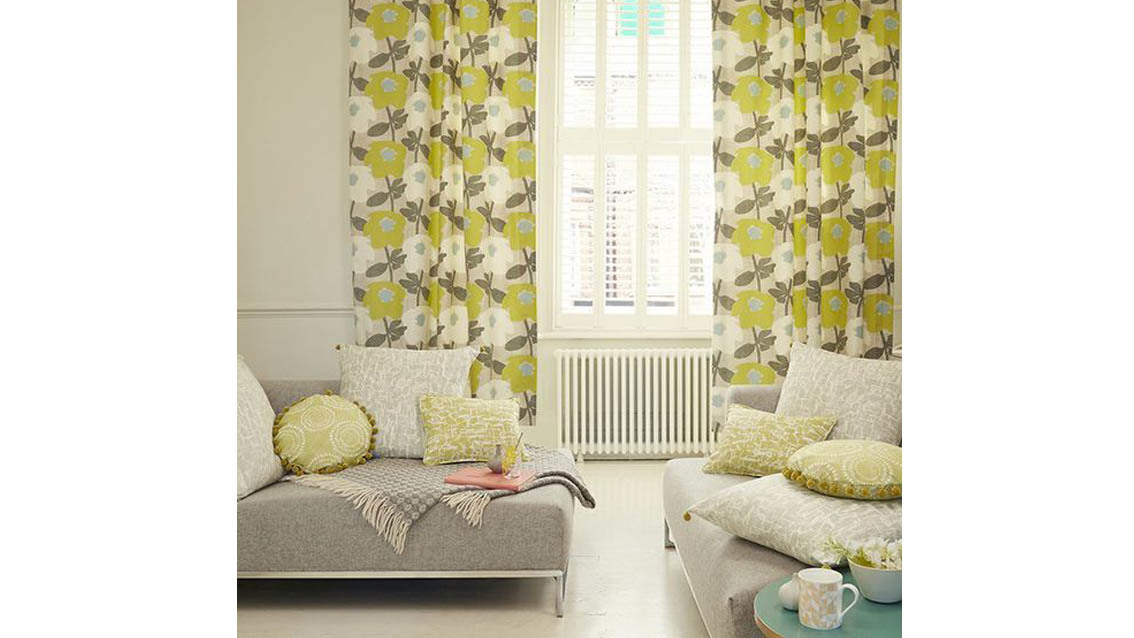 Scandi Collection
Scandi collection by Maurice Kain, is bright, fun and retro. This 100% cotton range is perfect for bringing the Pantone 2021 colours into your home with flair. The delightful Copenhagen pattern in Sunshine combines the two colours and is bright and cheery without being busy. The Helsinki pattern let you choose from yellow in the Sunshine colourway and grey in Pebble.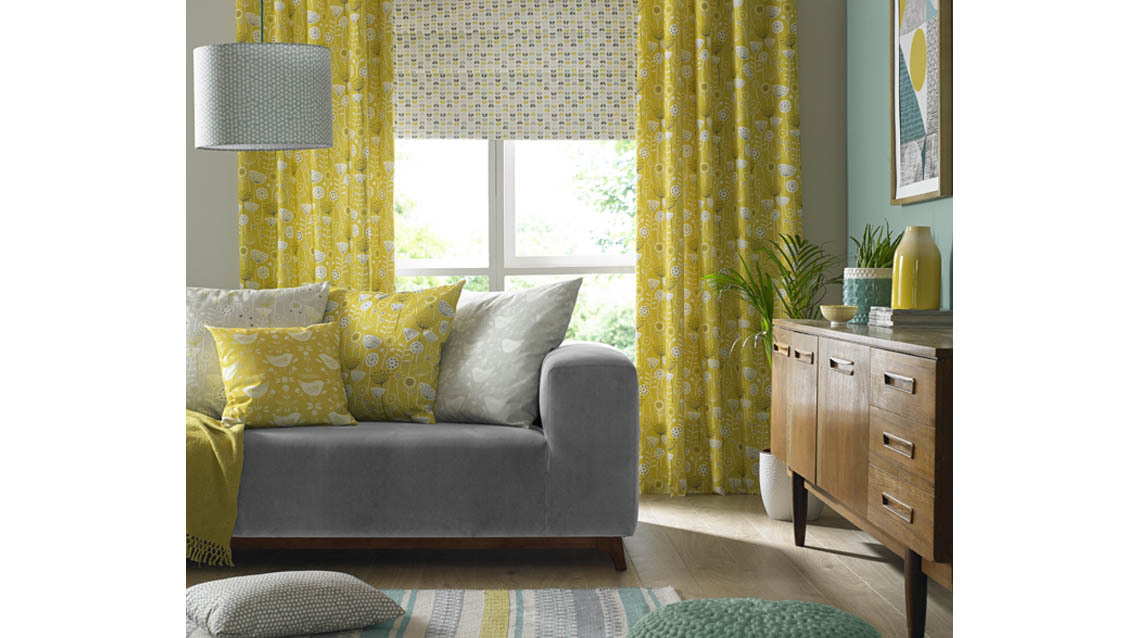 Pictured: Roman Blind - Copenhagen, Drapes and large cushion - Oslo by Maurice Kain
Visit your local Colourplus and talk to our expert team about which wallpapers and curtains are right for your next project.
Find My Store